[an error occurred while processing this directive]

/home

:: Thursday, April 26, 2007

Also, for those of you in San Francisco you might want to check out Friday Night at Harputs Market. This week, in exchange for the somewhat steep cover charge of $75 you'll be treated to an evening of wine, art and entertainment including music from The Nice Device. There will also be raffles for some sweet designer clothing and accessories.




Perfect for spring riding, DWR is now offering the new line of Biomega AMS bicycles. Each is beautifully designed, and features a cardanic shaft drive which eliminates greasy chains and greasy trousers.

For all our friends in the EU, Modular Records is throwing down this weekend with a triumvirate of party goodness. Check the cities below for details.

Friday, LONDON - Modular Weekly @ Ditch Bar, 145 Shoreditch High Street with Sinden, Tramp! (Manchester), Nightmoves (Nottingham), FACT Magazine DJs, Baseball Furies and Modular DJs. ONLY £5 from 9pm - 4am. 2 for 1 beer before midnight.

Friday, PARIS - Modular Paris Party @ Showcase - Good Shoes (live), New Young Pony Club DJs, Herve, Fred Falke, Modular DJs and special guests. Free before 11, 10 euros after and from 10pm to 6am.

Saturday, BERLIN - Modular Berlin Party @ Rio- New Young Pony Club DJs, Sinden, Kavinsky, Modular DJs, VICE DJs, Rio Allstars. 10pm to 8am at RIO CLUB.

If you're stuck stateside, just roll west to San Francisco where Modular will be kicking down the beats with the Radio Soulwax Tour:

Friday, April 27
Radio Soulwax Tour featuring:
Soulwax Nite Versions Live
2 Many DJs
Muscles Live
DJs JDH and Dave P (Fixed NYC)
DJs Jefrodisiac and Richie Panic (SF)

Mezzanine
444 Jessie Street @ Mint 9pm
Advance tix $20

But the San Francisco fun doesn't stop there...might as well pitch a tent and create your own version of San Franciscoachella Sunday and Monday with shows by Digitalism, Joakim and LCD Soundsystem. Yeah! It's all at Mezzanine

...and finally, mark your calendars for this, also at Mezzanine:

:: Monday, April 09, 2007

Joseph Kosinski's new commercial for the Saab Blackbird (Aero X). View a high resolution QuickTime version here.
A grim vision of the future painted by Britan's Ministry of Defense includes: Information chips implanted in the brain. Electromagnetic pulse weapons. The middle classes becoming revolutionary, taking on the role of Marx's proletariat. The population of countries in the Middle East increasing by 132%, while Europe's drops as fertility falls. "Flashmobs" - groups rapidly mobilised by criminal gangs or terrorists groups.
:: Tuesday, April 03, 2007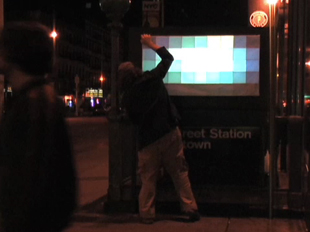 Art imitates commerce; some NYC street artists take the idea behind the groove tube to the public realm with their pixelator project. Check their website for videos and instructions on how to construct your own.