[an error occurred while processing this directive]

/home

:: Thursday, October 26, 2006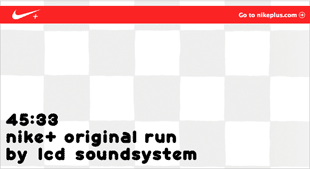 James Murphy of LCD Soundsystem has teamed up with Nike to release 45:33: Nike+ Original Run, a 45-plus-minute track designed to accompany joggers on their workouts. Displaying Murphy's inimitable production style, the track has the dynamics and temporal ebb and flow of an eclectic DJ set, beginning with a long, warm-up segment, moving into a rousing Afrobeat crescendo, peaking with double-time disco, and finally coming back to earth on a parachute of cool, ambient synthesizers. The track is exclusively available from Apple's iTunes music store, though hopefully it might see a limited vinyl release from DFA, as well.


Continuing on what appears to be the week's trend, our favorite Berlin DJ and entrepreneur Ellen Allien has just launched a Fall/Winter fashion line, bringing her minimal sensibilities to women's clothes. Her line features heavy fabrics like leather combined with fine silk and feminine shapes. I'm particularly fond of her interpretation of the black cotton dress.
:: Tuesday, October 24, 2006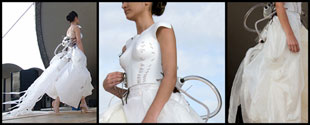 Seems like today is all about fashion...Diana Ng (our favorite nerdy fashion designer and contestant on Project Runway season 2) has recently co-created BlackBoxNation.com with Emily Albinski, a company dedicated to merging fashion with technology. We're looking forward to what BlackBoxNation turns out in the coming months.


Brand mashups are all the rage these days and are producing some interesting bedfellows. Case in point: one of my favorite fashion labels, Viktor + Rolf is stepping out into the world of affordibility thanks to their exclusive new collection done for global retailer H&M. The Viktor & Rolf for H&M line will be available as part of the launch of the new H&M Beverly Center location on November 9th, as well as select H&M locations around the world. You can get a sneak peek of the clothes on the H&M website.