[an error occurred while processing this directive]

/home

:: Tuesday, October 31, 2006

PS: If you're unable to get tickets to Ladytron tonight, but still looking for an opportunity to get your haunt on, I suggest indulging in the robotic rock of Justice and MSTRKRFT at the Check Yo' Ponytail Halloween Blowout. It all goes down starting at 9pm at Safari Sams. Boo!




If you're looking for a good fright this Halloween, check out The Thirteen Scariest People in America.


Otherwise, I'll see you tonight at Ladytron's live performance of The Witching Hour at the El Rey theater. Happy Halloween!
:: Thursday, October 26, 2006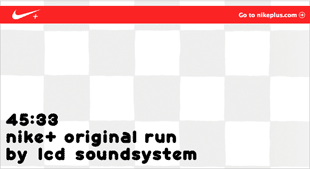 James Murphy of LCD Soundsystem has teamed up with Nike to release 45:33: Nike+ Original Run, a 45-plus-minute track designed to accompany joggers on their workouts. Displaying Murphy's inimitable production style, the track has the dynamics and temporal ebb and flow of an eclectic DJ set, beginning with a long, warm-up segment, moving into a rousing Afrobeat crescendo, peaking with double-time disco, and finally coming back to earth on a parachute of cool, ambient synthesizers. The track is exclusively available from Apple's iTunes music store, though hopefully it might see a limited vinyl release from DFA, as well.


Continuing on what appears to be the week's trend, our favorite Berlin DJ and entrepreneur Ellen Allien has just launched a Fall/Winter fashion line, bringing her minimal sensibilities to women's clothes. Her line features heavy fabrics like leather combined with fine silk and feminine shapes. I'm particularly fond of her interpretation of the black cotton dress.
:: Tuesday, October 24, 2006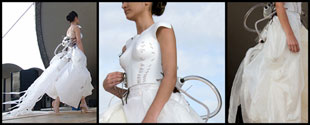 Seems like today is all about fashion...Diana Ng (our favorite nerdy fashion designer and contestant on Project Runway season 2) has recently co-created BlackBoxNation.com with Emily Albinski, a company dedicated to merging fashion with technology. We're looking forward to what BlackBoxNation turns out in the coming months.


Brand mashups are all the rage these days and are producing some interesting bedfellows. Case in point: one of my favorite fashion labels, Viktor + Rolf is stepping out into the world of affordibility thanks to their exclusive new collection done for global retailer H&M. The Viktor & Rolf for H&M line will be available as part of the launch of the new H&M Beverly Center location on November 9th, as well as select H&M locations around the world. You can get a sneak peek of the clothes on the H&M website.
:: Wednesday, October 18, 2006

The Russian music download site AllOfMP3.com broke tradition today to defend itself against allegations that its music downloading operation is illegal. While it's a fascinating study in international copyright law, what we found even more interesting is they plan to make all the music in their catalog downloadable for free with their new advertising supported model. I got a real chuckle over the name of their new client software that will be available soon for both Windows and Mac, it's called "Music for the Masses". I always suspected there were some Mode fans over at AllOfMP3.com, based on the comprehensive selection of Depeche Mode albums, compilations, singles and bootlegs. Now I'm certain.
:: Tuesday, October 17, 2006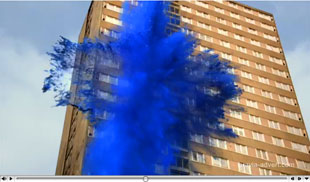 Check out this brilliant new Sony ad for Bravia UK, they let 18,000 gallons of paint let loose in Glasgow. Make sure to watch the behind the scenes video, it wasn't CGI.
:: Thursday, October 05, 2006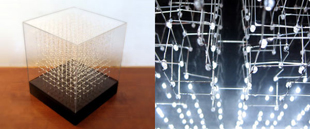 One of our favorite visual artists, James Clar has just launched the official James Clar + Associates Online Store, making available a selection of his most recognized designs as well as future productions. I'm particularly fond of the 3D Display Cube pictured above, which are available in the store for a mere $3000 each. Donations anyone?
:: Tuesday, October 03, 2006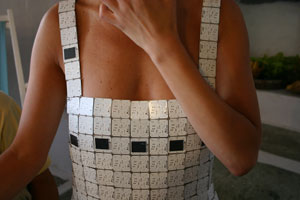 At the Unravel (the SIGGRAPH2006 Fashion Show) Studio 5050 showed Day-for-Night: Modular Extensible Reconfigurable is a dress comprised of 436 white circuit boards that are linked together with metal rings. Each tile is addressable from a central control unit at the back of the dress. Solar cells are embedded on some of the tiles and charge the dress during the day. The dress is completely modular both in hardware, as new tile functionalities can be added and in terms of software. The control unit has an RF receiver module which can receive new programs from a programming USB board with an RF transmitter.
:: Monday, October 02, 2006


In what can only be described as a stroke of co-marketing genius, Ghostly International has announced a partnership with purveyor of exquisite design Moss to release an exclusive Ghostly compilation packaged as a digital memory device. The device will be emblazoned with the logos of both brands and will feature 14 tracks from across the Ghostly International roster. Brilliant! This will surely set the standard for other discriminating labels to follow. Watch the Moss Online website for details.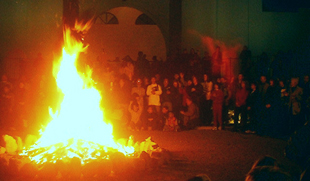 It still amazes me that people try and have books banned. The freedom to choose seems so innate that I usually take it for granted. The American Library Association received a total of 405 challenges last year. A challenge is defined as a formal, written complaint, filed with a library or school requesting that materials be removed because of content or appropriateness. The 10 Most Challenged Books of 2005 were:

It's Perfectly Normal
for homosexuality, nudity, sex education, religious viewpoint, abortion and being unsuited to age group;
Forever
by Judy Blume for sexual content and offensive language;
The Catcher in the Rye
by J.D. Salinger for sexual content, offensive language and being unsuited to age group;
The Chocolate War
by Robert Cormier for sexual content and offensive language;
Whale Talk
by Chris Crutcher for racism and offensive language;
Detour for Emmy
by Marilyn Reynolds for sexual content;
What My Mother Doesn't Know
by Sonya Sones for sexual content and being unsuited to age group;
Captain Underpants
series by Dav Pilkey for anti-family content, being unsuited to age group and violence;
Crazy Lady!
by Jane Leslie Conly for offensive language; and
It's So Amazing! A Book about Eggs, Sperm, Birth, Babies, and Families
by Robie H. Harris for sex education and sexual content.