[an error occurred while processing this directive]

/home

:: Friday, September 08, 2006

Without further hesitation, I give you Stallion: Master Magician.
I'm back from the Playa, another successful trip to Burning Man. I'm headed out of town again tonight so I don't have time to post much, but I'll give all you robots who were trapped in the default world the hilights. Aside from hanging out for a week with my brilliant, beautiful and uber talented friends, I saw some sights that were simply out-of-this-world: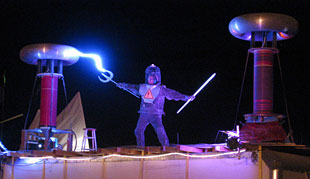 I finally had a chance to meet, hang out with and see a performance by the legendary Dr. Megavolt. Yes, it was everything it was crackled up to be; an electrifying performance to say the least.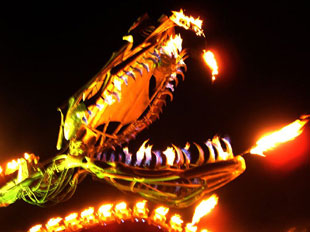 The huge Serpent Mother was amazing; photos do not do justice. It pulsed with fire and heat and was one of the most impressive displays I've seen at Burning Man.


And of course, there was the Waffle. I'm not sure what this immense structure was actually called, but it was dubbed The Waffle by attendees as a result of it's criss-crossed supports and it's Belgian creators. Truly impressive, plus it became a ginormous dance party once the sun went down.

More pictures soon, I promise! You can see a small subset of shots in this online album. Enjoy!