[an error occurred while processing this directive]

/home

:: Saturday, May 20, 2006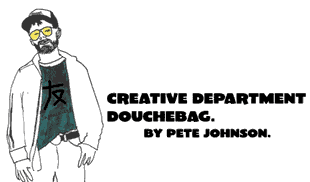 The name's Trev. I'm 27, totally super fucking hip, and am a copywriter at a global ad agency in New York City. More...
:: Thursday, May 18, 2006
A couple of noteworthy LA shows coming soon:

Saturday May 20th, local electro superstar Matt Sims will spin up a storm @ the Echo. $8 after 10:30.

Sunday June 25 catch French electroclash and techno producer The Hacker at Key Club.

Recent CCA graduate Courtney Skott shows off her incredibly cool Cloud Bed. She's got an entire Flickr set up documenting the design and assembly process. Superb!