[an error occurred while processing this directive]

/home

:: Thursday, January 27, 2005

Target promotes Design for All.




:: Tuesday, January 25, 2005

Oh, Lemur. You will be mine someday. You're so very beautiful, and you can control Traktor. Another chink in the armor of vinyl. Just imagine yours truly rocking the spot like this, this or this.
Feeling a little uninspired by the dearth of new music out there, robots? Never fear, there's a musical tsunami on the horizon and it's headed this way. Here's a little sample of what to expect in the coming months from some new players and old favorites:

Daft Punk
New album "Human After All" expected to hit stores in March 2005.

LCD Soundsystem
Their first self-titled album will be released February 15th. Until then, check out the video for their single 'Daft Punk Is Playing At My House' is now available for viewing at lcdsoundsystem.com.

Tiefschwarz
New album Misch Masch is released domestically on February 8th, 2005.

Fischerspooner
In addition to the recent news about their new album, Odyssey due to be released on April 5, Fischerspooner and gallerists Deitch Projects have announced the re-opening of their evening Salons held at the FS studio space at 110 North First Street in Williamsburg, Brooklyn every Thursday. The opening party will be held this Thursday, January 27th.

Mu
Out of Breach: Manchester's Revenge - if you haven't already heard clucky, punky electro sounds of Mu, check out her single "Paris Hilton" download it for free from Index Magazine.

Portishead
In an interview to the BBC 6 Music they are in the process of writing a new album, that was well on its way to completion. On the rumoured break-up of the band, member Geoff Barrow commented, "We've just had our heads down really, we've never actually broken up, or parted, or whatever. So for us it just seems, even though we haven't played for years, we still see each other and write - we just haven't released a record for a long time."

New Order
New Order returns with their eighth studio album in the spring, and join the class of 2005 by taking their inspiration from... classic New Order. The album, "Waiting For The Sirens Call" is divided between guitar tracks in the vein of previous album "Get Ready" and the synth-based tracks that are their trademark. And yes, as normal, sleeve art will be designed by Peter Saville. Check out their single "Krafty" with your RealPlayer here.

Depeche Mode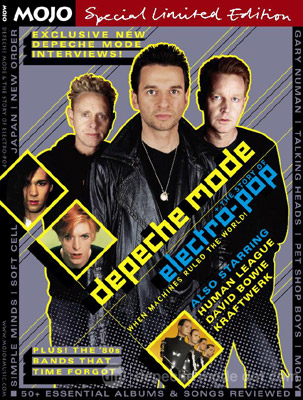 In addition to being featured in this month's Q / MOJO magazine, with "The Complete Depeche Mode Story", the band has already started work on a new studio album on Monday, January 17th along with with Daniel Miller, Jonathan Kessler and Ben Hillier at the production console.

All this comes from a varitey of sources, including our friends at Burnlab, Index Magazine, XLR8R and others.
:: Sunday, January 23, 2005
Molotov Media for the Masses


Gabe Dunne over at UCLA's media arts program has taken guerilla advertising to it's next logical step with his Molotov Projector. Simply attach the projector to any surface. Then call it via cellphone and reprogram the projection as desired. Multiple projectors may be linked to create a moving message across multiple surfaces. Brilliant!