[an error occurred while processing this directive]

/home

:: Saturday, January 15, 2005

The rain is gone, and LA is charged up for some great electronic grooves. Here's what's coming your way courtesy of Droid Behavior:

Anarexia and Deathstar (Modern Romantics) explore the future and the past of minimal electro this Sunday, January 16th 10-2am at The Parlour Club: 7702 Santa Monica Blvd, W. Hollywood. Cover is only $3.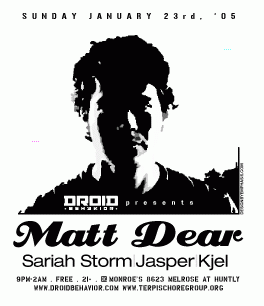 Then on Saturday January 22nd, make sure to check out the Native Insutruments NI LAB featuring:

Kaskade
Matthew Dear
Telefon Tel Aviv
Richard Devine
Terrestre
DJ Battlecat
The Executives
RD & Trichome
Drumcell (NI, Droidbehavior)
Suspect Seen (NI)
Walton (NI)
Kazell (NI)
leVEL (NI)
Visuals by Scott Pagano

It all happens 9-4am at The Blue Monkey Bar @ 5521 Hollywood Blvd, Los Angeles, CA 90028. $15.

And on Sunday, you can get more of Ghostly artist Matthew Dear for FREE from 9-2am at Monroe's @ 8623 Melrose at Huntly.

Finally, take a trip back to the late 80's and early 90's with this fantastic acid house and minimal mix by Turbo here.
:: Monday, January 10, 2005

Winners of the "I Look Like My Dog" contest [thanks, Jason].

What to do when you're bored and it's raining in LA? Design a t-shirt, of course. Check out my t-shirt design, it's called "high voltage" at threadless.com. If I get enough high scores the shirt will be printed and sold from the site and I will win some prizes. Take a look, and if you like it, sign up and give it a score.