[an error occurred while processing this directive]

/home

:: Saturday, November 06, 2004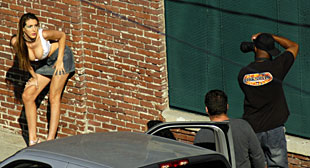 I suppose as long as the two words "ghetto" and "fabulous" are used together in popular culture, photo shoots with busty hoochies outside my loft will be a regular occurrence.
:: Friday, November 05, 2004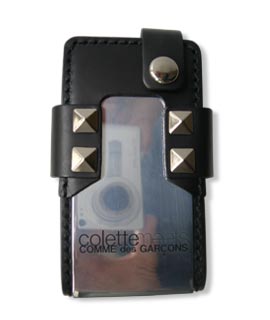 For the ultimate in, um, iPod fashion, you can now skin your pod in a Comme des Garcons suit. The metal and leather case has been made exclusively for Colette in Paris and the temporary colette store in Tokyo. It can be yours for only 440 Euro.
SF Robots - See the Tokyo Electricians battle in 30 min sets back to back all night long, tonight at Tokyo Electric.
Michael Moore on 17 reasons not to slit your wrists [via Protein and Doyle]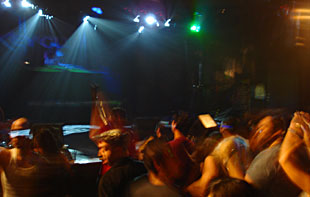 Last night's show with Tiga was amazing. In contrast to his San Francisco appearances, this show was definitely more of a production.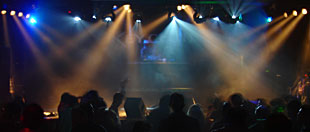 The venue, Key Club was completely decked out with hi-tech lighting, and the DJ booth was set up in the middle of a completely empty stage, which was a little strange, especially when you consider some of the dingy warehouses and bars most of the events in SF take place. Nonetheless, Tiga had LA burning down, down, down, down, down. In addition to having the whole crowd bumping, fellow electro artist Matt Sims (of Mt. Sims) was in the audience with his throng of peeps, gettin down.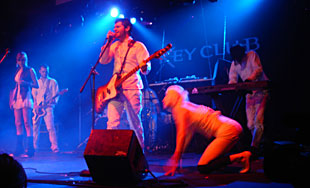 The set was prefaced by a live performance by Shiny Toy Guns, complete with lingere and legwarmer clad dancing girls. Nice.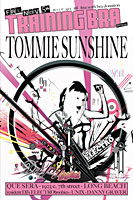 Tonight, head to Long Beach if you can to catch Tommie Sunshine at Training Bra.
:: Thursday, November 04, 2004
Six Ways to Take Your Mind Off the Election Disaster - a.k.a BitBoy's LA picks for the weekend and beyond:

Thursday - Tiga at Key Club
Friday - Training Bra in the LBC
Saturday - The Incredibles with the teaser trailer for Star Wars: Episode III Revenge of the Sith
Sunday - Colder w/Home Video & Tussle @ The Echo
Monday - Jimmy Edgar at Monroe's (FREE!)
Tuesday - Jimmy Edgar with Diplo at The Echo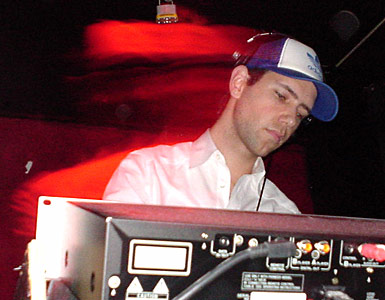 Tiga at Club Fake San Francisco, March 2003
List in descending Avg IQ by State, and who that state voted for.
:: Wednesday, November 03, 2004
On a lighter note, what do the iPod guy, A white suited b-boy with a giant boombox, 3 china dolls, 2 snow princesses, Rick James and Condoleeza Rice all have in common? Check out the pictures from the Halloween Boom Boom Block Party to find out [thanks Damon].
Not my values. Not my President.
AAARRGH! How can this be? Please say it's not true. Who are these people who claim to support this presidential candidate because of his 'moral issues'? Hmmm, let's see - lying to the American people and the world to justify his invasion of a country that never attacked us, responsible for the death of over 100,000 Iraqi citizens (profoundly immoral), destroying the environment for corporate greed and profits (profoundly immoral), giving the richest Americans huge tax breaks while continuing to stick it to the poor (profoundly immoral). I simply cannot relate to a people who value blind faith over facts. I love this country, but I have never felt so alienated, so disenfranchised and so full of contempt for my supposed country mates. Fool us once, shame on you. Fool us twice, shame on us. Get ready for the nightmare to begin all over again.
:: Tuesday, November 02, 2004
In case you're unsure of where your polling place is, simply use the helpful lookup utility at mypollingplace.com.
:: Monday, November 01, 2004

Calling all robots to get out there and VOTE tomorrow. If you're with me in supporting John Kerry, you can send your friends and family a voting reminder through the John Kerry website. Go JFK!
Spinalcat is MIT thesis project using a set of disk-jockey turntables and paper 'records' that can be printed or drawn. One of the many cool parts is the optical scanner used is nothing more than the CueCat barcode scanner, widely distributed as a free giveaway.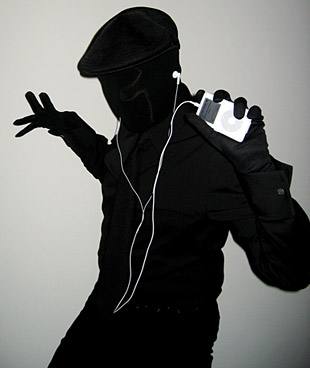 iDressed up for Halloween last night. Yes, that's me as your favorite digital music player ad.