[an error occurred while processing this directive]

/home

:: Thursday, October 28, 2004

This just in from the Fischerspooner camp:
Fischerspooner are putting the finishing touches on their second album in NYC with French producer Mirwais. So far the band have collaborated on tracks with David Byrne, Linda Perry, Susan Sontag and Tony Hoffer although the final track listing for the album remains undecided. The album is tentatively titled 'Odyssey', is being mixed in London with Mark 'Spike' Stent and Stephen Fitzmaurice and will be released via Capitol and EMI worldwide next Spring.




Add one more item to my wishlist - the LooP.Ph light sleeper. It's an electroluminescent textile bedding with integrated alarm that simulates a natural dawn to ease you into your day. Seems like it would be really easy to make this with some EL wire and a simple timer.
LA Robots:

More party planning goodness for your spook-tacular weekend,

Thursday night see the sold out Interpol show at the Wiltern, then head over to the aforementioned DFA show at The Echo, or head to the Beauty Bar where Carlos from Interpol will be reinterpreting his Les Infants Terribles/Dorkpol appearance, spinning his favorite beats.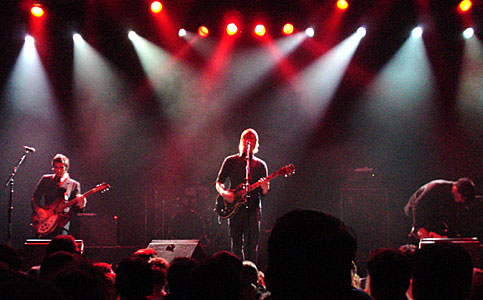 Interpol at the Filmore SF, Feb 2003

Saturday night head to Key Club for the Gigolo Records Halloween Party with Zombie Nation, Mount Sims, Crossover and DJ Unknown. Maybe you'll even hear DJ Unknown throw down his Bush-bashing acid techno burner (thanks Kevin McFancy).

Also, next Friday November 5th, catch Tommie Sunshine on the decks at Training Bra, the LBC's monthy electro party.

Thanks to DJ Saintpatrick for the tips.

SF Robots:

Friday night don't miss the Remix Hotel Afterparty at RX Gallery, featuring Ghostly International artist Matthew Dear and Telefon Tel Aviv from Domino.

Then Sunday head to Studio Z on Folsom St. for Tokyo Electric's Halloween bash, for a night of electro beats plus a live performance from Metropolis Records Artist 'Fixmer/McCarthy' (NITZER EBB Frontman Douglas McCarthy and Gigolo Records artist Terrence Fixmer).
:: Tuesday, October 26, 2004
Proving once again that Thursday is the night to go out in LA, head down to The Echo on the 28th to catch James Murphy from DFA/LCD Soundsystem and get down to his unique blend of hard techno, sprawling space rock, hipster pop and squealing 909 jams. Tickets are $17 at the door.

Continuing with our Thursday night theme, on the fourth choose from seeing our favorite Canadian, Tiga at Key Club, or head back to The Echo for VHS or BETA along with Telephone from P-town.
:: Monday, October 25, 2004