[an error occurred while processing this directive]

/home

:: Friday, July 16, 2004




:: Thursday, July 15, 2004

Lots of buzz about this guy Moose today...maybe you've seen links elsewhere. If not check out Symbollix for his work. Basically he's been creating corporate graffiti by cleaning surfaces in the UK. It's brilliant but the authorities are also keen to put an end to it. I'm sure the sentence will involve removing his work......errr. Love the stuff for hype. Genius. [Blatantly ripped off from Dave Pinter, fellow Burnlab consipirator]




More information about Friday, July 30th at Mezzanine with Miss Kittin and Ghostly Int'l Art and Artifice 2004AD tour at Mezzanine. Get your tickets thru Blasthaus.




:: Wednesday, July 14, 2004

TDK is big pimpin' with these "Bit Club" minidiscs. Join the club exclusively at Audiocubes.com.
:: Tuesday, July 13, 2004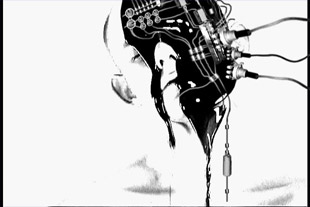 SF expatriate and video artist extraordinaire, Phoenix Perry (of Reline and Memory Systems fame) has created what looks to be a stunning new work of art along with Arnold Steiner and Brian Jackson with their new video, Draw Down. Draw Down explores the relationship between man, machine, environment and the culture of greed. If you're in NYC this Thursday, July 15th you can must catch the premiere of Draw Down as part of the NYC Film and Video Festival followed by a performance by 'Nix herself. More info can be found here. No information yet as to whether a left-coast premiere is on the horizon.

As if we needed another reason to prove Europeans have their shit together when it comes to design.
Also, if you're planning on going to either the Scissor Sisters/The Fitness show at Slim's on July 24th, or Miss Kittin, Dabrye, Midwest Product and Matthew Dear show at Mezzanine on July 30th, you should buy tickets ASAP, they're selling out fast and WILL be sold out by the time the shows roll around. You can get Scissor Sisters tickets at Tickets.com, and Mezzanine tickets are available at Blasthaus.com.
A new low? Definitely not in this city, so if you're in a mood 2 sing u should check out Peaches Christ's Purple Rain Sing-Along this Friday at the Landmark Bridge theater. Admission comes with a complimentary goodie bag and Peaches hosts an "'80s slut pageant" beforehand to get everyone in the mood.