[an error occurred while processing this directive]

/home

:: Friday, April 30, 2004

Issue five of the lovely Fake magazine is online for your enjoyment, who cares if you can't read it? Beauty transcends.
:: Wednesday, April 28, 2004
Bored with Friendster too? Try dodgeball, IMHO, a much more practical and clever implementation for social networking applications.
Benetton's Colors magazine which was first designed and edited by Tibor Kalman, re-launched today with a new editorial director, Kurt Andersen, perhaps best known as a founder of the trouble-making Spy magazine. According to this New York Times article, the new Colors will be less focused on "misery and pain", and future issues would be a blend of old Life magazine and National Geographic.
:: Tuesday, April 27, 2004
If you haven't already seen it, April's Index magazine features a six-page spread on Ellen Allein. It's an informative look at the Berlin artist and label-owner's past, her love for Berlin and respect for Gold Chains. Also, immediately following the Ellen Allein article is a 10 page photo spread by Mark Borthwick, and while I know Mr. B is supposed to be known as one of the top photographers of avant-garde fashion, and earns great respect from the likes of Martin Margiela and Yoji Yamamoto, I'm just not feeling the love for his work. Maybe the spread in Index isn't among his top work, is there something else of his I should be looking at?

70s reproduction LED watches available from led-watch.com

:: Monday, April 26, 2004
So many, many things going on right now, Robots. I canít even begin to tell you everything, but Iíll do my best in this tome of a mega-post. First off, are you ready to meet your makers, Robo-sapiens? Thatís right, the boys from DŁsseldorf will be in San Francisco this Wednesday to kling and klang at the Warfield. The show should be fantastic, I saw them once before and the bass was so strong it literally felt like CPR. If you donít have tickets yet, beg, borrow, steal, do whatever you have to do, but donít miss this show, itís likely their last US tour.



After the show, stop by Lit on 6th street for the Kraftwerk After Party which will be put on by our friends at Tokyo Electric. Theyíre also hosting a party at the Luna Lounge on May 7th which is not to be missed.

Speaking of Tokyo, as a veteran gadget connoisseur I can tell you that the consumer electronics gadgets, especially the accessories that one can obtain in Tokyoís legendary Akihabara district far outshine even the coolest gadgets here. There are simply more. More models, more colors, more goodness. To the techno phobic, this might seem like an overwhelmingly nightmarish situation, but if youíre like me, itís as close as any heaven I can imagine. I havenít been in months and Iím really starting to have fits of Muji withdrawals. Thereís a new electronics brand called Plus Minus Zero that is produces absolutely, drop-dead gorgeous Dieter Rams-esque simple electronics products which I am drooling for. On the more mass-market side of things, there is a fantastic online store, Audio Cubes that sells some of the more tasty items not fit for typical American consumption. Hereís just a small sampling of some of the more interesting items that arenít available in the US, but Audio Cubes will ship from Japan:



Sonyís MDR-EX71SL White Fontopia Earphones, Japanís #1 iPod replacement



Sonyís Uber-cool MDR-D66SL Eggo Headphones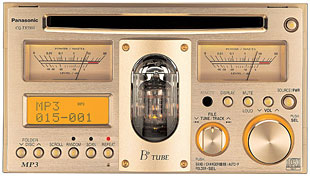 Panasonicís Insane CQ-TX5500D Vacuum Tube Indash CD Reciever



Sonyís Innovative SMU-WR1 wireless optical mouse


And of course, some items specifically of interest to Robots everywhere...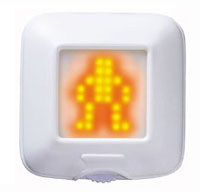 May-Wa Denki Bitman



Cam-08 The Perpetual Humanoid

Speaking of Japan, Coworker Gen Kanai got a little notoriety today!

Found a good photography site, 28MM.

May 14-16th should be fun as Wired Magazine puts on their first ever NextFest. According to the ads, come to NextFest and see the future: robots, flying cars, private space planes, homes of the future, fuel cell cars, unmanned aerial vehicles, future warrior battle gear, holograms, laser sound beams, invisibility coats, and so much more from leading visionary companies and R&D labs worldwide.

More music news, on Wednesdays (other than the Wednesday of the Kraftwerk show) Club six is host to the lovely and Robot-friendly Toula is presenting a new night of Electro and Synth Rock, and it is our understanding that our friend Cat will also be spinning there and playing her personal variety of early 90s techno and acid.

Upcoming releases to get very excited about include Tamion 12 Inch and Goudron on Ersatz Audio (Thanks, Doyle!).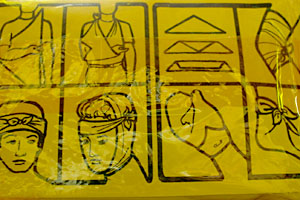 Ersatz van full of vinyl destined for distribution

Iíve also been listening to a pre-release version of the new Miss Kittin album called I Com due out on May 18th. While not Hacker-esque in any way, sheís developed a new style thatís sure to make you shake it. For those of you old enough to remember the experimental electronic masters, EinstŁrzende Neubauten, theyíre now on tour and will be in San Francisco on May 7th at the Fillmore (so go to the show, then go to Tokyo Electric afterwards). The next week Bpitch Control owner-artist Ellen Allien returns to San Francisco to rip it up at Club Six; and if the last show at Mezzanine was any indication, the tiny basement at Club Six is going to be a sweaty, gyrating mass of electro bootyshake (good times).

Last but not least, you may be wondering, with all this amazing news, why have posts from Robot-control been so brief and infrequent? Well, Iíve been busy traveling between San Francisco and my soon to be new home base of Los Angeles, and Iíve taken the plunge and purchased a new loft! Yes, very soon I will officially be a somewhat-responsible adult with a crippling mortgage. Oh, but did I mention the loft is a redeveloped building from 1924 with design renovations done by award-winning architect Clive Wilkinson (who is bringing a little of his Chiat/Day-shipping container magic to my loft).



Oh, and of course, thereís the roof-top pool.