[an error occurred while processing this directive]

/home

:: Friday, October 24, 2003

Kung-fu robots and a new Siouxsie site, from Mr. D.




Don't forget to buy your tickets for Richie Hawtin and Ellen Allien at Mezzanine SF on November 7th. You can buy tickets at Blasthaus via Paypal here.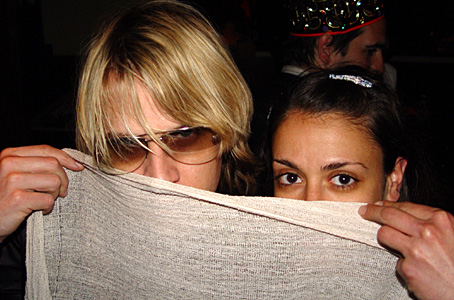 Casey and Toula, April 2003. Photo by Bitboy

Nobody can ever accuse Fischerspooner of not having a good sense of humor. The performance art troupe has finally unveiled news about the long-awaited follow up to their 3 year old debut album #1 -- providing an easy target to electro-bashing critics, here is just one of many news snippets found about their upcoming release, titled "#2":

Fischerspooner #2 on the Way
by Bernardo Rondeau

New York DJ Larry Tee may have proclaimed the belated demise of Electroclash this summer by re-titling the genre's namesake showcase the "Electronic Outsider Music" Festival, and even shutting down the movement's dance party night Berliniamsburg . Numanoids fear not, for the scene's torchbeares Fischerspooner show no signs of shelving their synths and eyeliner anytime soon. Word has it that Casey Spooner and Warren Fischer have finished recording much of the follow-up to last year's dually reviled/revered #1 and will soon unleash another wave of Kabuki-clad, Eurowave transgression on the world.

Song titles such as "SS Stone," "Los Angeles," "Reverb," "Squirm" and "Downup" may suggest business as usual but the men machine have been speaking of the unfinished LP as a "digital AOR Seventies record" and even name-dropping the bloated carcass that reigned over that decade: Pink Floyd . While art-students and academics may fear the second coming of the double-album that dare not speak its name ( The Wall ), Fischerspooner would never turn their feather-and-sequin shoulders to the gallery owners that first nestled them like bejeweled babes in a silken cradle.

Fischerspooner are talking of a collaboration with raven-haired critic, novelist and cinemaniac Susan Sontag on the forthcoming disc. And if you can't tell your Sontag from your Maytag, chances are the prospect of a Girls Gone Wild -ish video for first-single, "Never Young," will be the clincher. Regardless, with a sudden void for aggressively bad-taste left after the demise of Siegfried and Roy , there may be hope still for future generations of spectacle-seekers. Fischerspooner, the 21st Century--or at least an enormous laser-lit, dry-ice stage on the Vegas strip--is all yours.

Here's another article, at Rolling Stone.
:: Thursday, October 23, 2003
The charming and ever robo-friendly, Cat is waking up from a long nap and has decided to come out and play this weekend. She's going to be spinning her latest electro beats Saturday night at the Arrow in San Francisco. Should be a fun time for all.
Nano velcro. Cool.
:: Sunday, October 19, 2003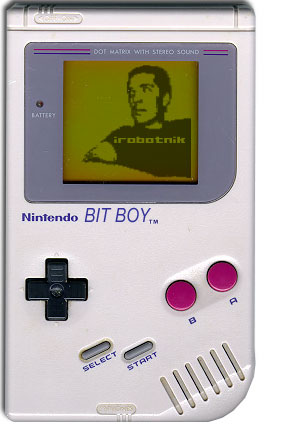 Put away your fancy laptops and synthesizers, that's so 2003 retro 80's. Instead, bust out your gameboy. There's an entire community who are not only composing 8-bit tunes using the chipset embedded in Nintendo's pocket-sized player, they're even performing live with them - by this robot's standards, there's nothing more hardcore then performing live with a gameboy or two. Check out some of the links here or here. Of special interest is the 8bitpeoples.com site, where they have downloadable MP3s of 2 brilliant Depeche Mode megamixes, all composed on, you guessed it. Rock on, Mario. Thanks to Robot Peter for the links.