[an error occurred while processing this directive]

/home

:: Thursday, June 12, 2003

Two shows to mark on your calendar, SF live electro-duo Cybrid will perfrom Live @ Punch Gallery (155 10th St.) on Saturday, June 21st, then again at CFDC Fashion Show on Saturday, July 12th. Check the Cybrid web site for more details.




:: Sunday, June 08, 2003


If you weren't at Further Goes Electro last night, you missed a great night of music, dancing and general debauchery courtesy of DJ Unknown and John Selway (aka Memory Boy). As usual, Selway got the crowd pumped with a variety of obscure tracks and some great industrial floor pounders that elevated the temperature in the basement to what had to be at least 90-degrees. Thanks to Jenny and Omar and the Blasthaus crew for putting it all together.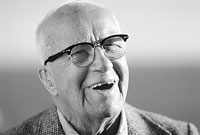 In other news, if you've been putting off seeing the fantastic one-man show at theater Artaud, R. Buckminster Fuller: The History (and Mystery) of the Universe, don't wait any longer! The show is in its final weeks of production. Ron Campbell does an amazing job of playing the brilliant scientist, inventor and humanist. It's an inspired piece of work that everyone should experience - well worth the price of admission! Get more information here.