[an error occurred while processing this directive]

/home

:: Friday, February 28, 2003

With the recent flurry of posts, I almost forgot to mention this...


While in NYC I met a really nice fellow named Nathan Scott and his friend (whoís name, regrettably, escapes me at the moment). In the midst of conversing with him about music I learned that he has his own band, Aalacho. He was nice enough to give me a copy of his latest CD, Sugar. While not the usual brand of robot-pop touted here, Sugar is a lush electronic, sweeping cinematic-sounding album that is worthy of mention. I find itís the perfect chaser to Massive Attackís 100th Window and itís nailed that a well deserved spot in the iRobotnik rotation. If youíre intrigued, itís worth checking out.
She managed to somehow smuggle a Nikon N90 35mm into the aforementioned Interpol show at the Fillmore, I'm not quite sure how, but she did. Here is her online album.
Electrobleep Radio is a great streaming radio station that takes requests! Just search and browse for your favorite song and their gentle robots will play it almost immediately.
:: Thursday, February 27, 2003
Here at iRobotnik, we're concerned with more than just robots and electronic music and stuff. We're also concerned with national security. To that end, we've developed a new line of products available at the iRobotnik online store. The first of which is being offered exclusively to our loyal robot army:


Secure our homeland while securely transporting your lunch with the new iRobotnik "Biological Readiness Lunchbox" - available for just $15.99 in the iRobotnik online store.

Terrorism forces us to make a choice, we hope you'll choose to shop iRobotnik.
:: Wednesday, February 26, 2003



A weekend in NYC is not enough time. Period. Still, I had a great time soaking in the city (literally with the huge lakes of muddy slush) and catching up with friends. After breezing into town I hooked up with my gracious hosts for the evening, Michael Doyle from Burnlab and fellow Burnlab conspirator Karl Zeiss for a fun evening on the town. We met at Plant Bar where I was immediately impressed with the tunes being spun by the DJ. I asked Michael, "so who's that spinning?", to which he replied, "oh, that's John Selway". Welcome to New York! After that we headed over to 59 Canal St. - a nondescript upstairs karaoke bar turned nightclub to hear Magda spin an awesome set and catch up with Brian and 'Nix from Memory Systems who are getting ready to head overseas and introduce Europe to their unique brand of synthetic meta pop.




Although I was having a great time, by the time 5 a.m. rolled around I was feeling the jetlag in a pretty bad way, so I had no choice but to turn in (despite the fact that the party was still going strong). Sunday was basically a chill out and recover day. I lucked out and landed a fabulous pair of Yohji Yamamoto Y-3 Adidas kicks, picked up a few new CDs and ended up having dinner with Sarah at Rice on Mott St. where we dined right next to Melissa from WIT - again, welcome to NY! We ended the evening with a stop by the brilliantly gimmicky Remote Lounge, where every table and barstool has a remote controlled video camera installed - the cameras are controllable via joystick by the bar patrons who can view the output of the different cameras at custom-designed consoles, therefore allowing you to "spy" on other patrons and to be "spied" on in return. It's frighteningly addictive and could easily turn into a guilty pleasure - it would be an instant hit in San Francisco. All in all I had a fantastic weekend - I can't wait to go back when the weather is a bit more temperate. A big thanks to Michael, Dan, Brian and Phoenix for making a fun trip even more enjoyable with their hospitality!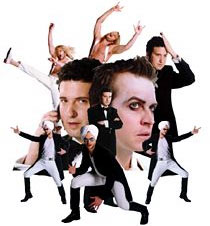 Fischerspooner's US Tour goes on sale this weekend. But, EXCLUSIVELY for subscribers to the mailing list (and the iRobotnik faithful), we have an opportunity for you to buy tickets in advance of the public courtesy of Music Today.

Presale begins at noon Tuesday, February 25th with tickets for the April 8th show in Toronto and the April 13th show in Washington DC. Tickets for the April 25th performance in San Francisco will be available on Thursday, February 27th at noon. Presale tickets for all other shows will become available at noon on Wednesday, February 26th.

Here is the link for advance ticket sales.
http://www.fischerspoonertickets.musictoday.com

username: fischerspooner
password: tickets

Fischerspooner US Tour
Tue/Apr-08 Toronto, ON The Guvernment
Wed/Apr-09 New York, NY Hammerstein Ballroom
Thu/Apr-10 Boston, MA Avalon Ballroom
Fri/Apr-11 Philadelphia, PA TLA
Sun/Apr-13 Washington, DC 9:30 Club
Tue/Apr-15 Atlanta, GA Eleven 50
Thu/Apr-17 Detroit, MI St. Andrews Hall
Fri/Apr-18 Chicago, IL Metro
Sat/Apr-19 Minneapolis, MN The Quest
Tue/Apr-22 Vancouver, BC Commodore Ballroom
Wed/Apr-23 Seattle, WA Showbox
Fri/Apr-25 San Francisco, CA The Fillmore
Sat/Apr-26 San Diego, CA Spreckels Theatre
Sun/Apr-27 Los Angeles, CA Coachella (not eligible for pre sale)

Last weekend in New York was a blast, but more on that later...

Word is the official Client website has just been updated with a new MP3 - Client no 4, which can be downloaded from the audio page. Also, check out the live page for venue details for Client's upcoming DJ dates in Copenhagen and Paris.